Trauma Performance Improvement Tool for Emergent & Massive Transfusions
Maintain >0.75 ratios to improve survival1,2
Track blood across pre-hospital, ED, OR, ICU
Calcium & TXA reminders
Reduce time to TXA given
Integrates with EMR
1. Matthay ZJ et al. Outcomes after ultramassive transfusion in the modern era: An EAST multicenter study. JTACS 91(1)24-33, July 2021.
2. Hynes AM, et al. Staying on Target: Maintaining a balanced resuscitation during damage control resuscitation improves survival. JTACS. 91(5):841-848, Nov 2021.
Blood Nav Highlights
To view, click above (0:51)
Blood Navigator Provides:
Fast, accurate logging of blood product usage and dual verification

Coagulopathy-based goal directed therapy

EMR integration

Chronological record of massive blood transfusion protocol (MTP) events and actions for performance improvement reviews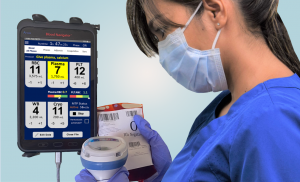 Scanning bag barcodes with Blood Navigator system automatically logs blood product usage.
The Blood Navigator system includes:
✙ Blood Nav ™ CDS proprietary software
✙ Rugged tablet with IV pole bracket
✙ Blood Nav handheld barcode scanner with      IV pole holster
Improved MTP Process Management Can Help:
Achieve balanced transfusions

Lower mortality rates

Improve communication of blood product use between team members and during patient transfer

Reduce blood product waste

Identify potential errors

Identify areas for improvement during reviews
                                                                            Blood Navigator and BloodNav are trademarks of Arcos, Inc.